Ni-MH Rechargeable Battery Pack SC 1500mAh 3.6V
Standard Charge Mode: 0.1C for 16 hours

Cycle Life: ≥500 times
Operating Temperature: (-20℃) - (+70℃)
Storage Temperature: (-30℃) - (+60℃)
Cell Dimension: 23.0 +0 -1.0(D), 42.5±0.5(H)
Cell Weight: ≈52.5g
Expected Life: 4 years
Packaging: Standard export package or customized package
Application:
1. Lighting: emergency lighting, emergency power supply, solar lights, searchlingts, flashlights
2. Power tools: electric drills, planers, saws, power granted
3. Electronic toys: remote control car, remote control boats, aircraft, model aircraft
4. Communication equipment: cordless phones, walkie-talkie
5. Personal care: electric shavers, massagers, electric tooth brush
Product performance:
1. Long service life (under normal conditions, the battery cycles more than 500 times.)
2. High rate charging and discharging performance: under the charging conditions specified by the company, the battery can be sufficient in one hour and can discharge with more than 10C current.

3. Wide temperature range: in high and low temperature environment, the battery performance is stable, and the working temperature range is - 10-70 ℃。
4. Good storage performance: at room temperature, the capacity of the battery remains above 70% after one month storage.

5. Improper use of safety devices: add chemical protection to prevent polarity reversal and over discharge; add safety relief valve to reduce internal pressure in case of improper use。
6. High stability: the company adopts the best materials, advanced production technology and technology to make the battery performance stable and reliable.
Performance Curves for Ni-MH Cell:
1. Ni-MH Cell Charge Curve At 0.1C For 16h At 55 Degree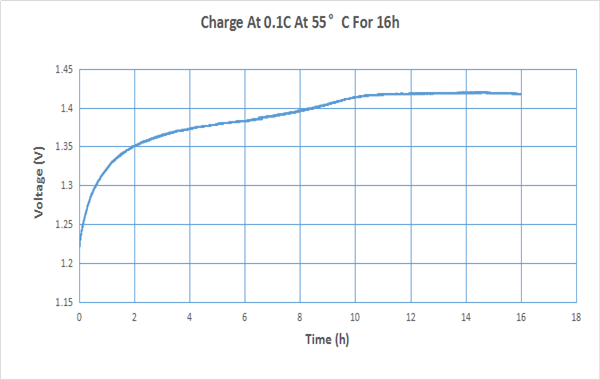 2. Ni-MH Cell Discharge Curve At 0.25C At 55 Degree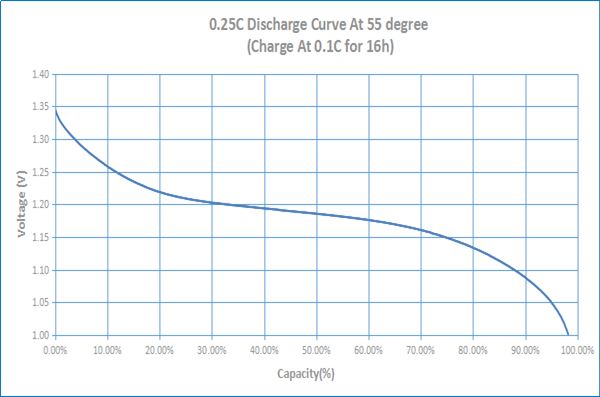 3. Ni-MH Cell Charge Efficiency At Different Temperature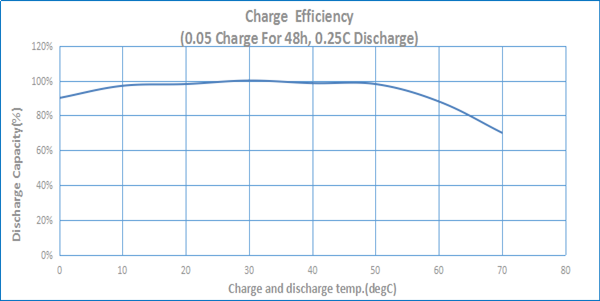 4. Ni-MH Cell Cycle Life Curve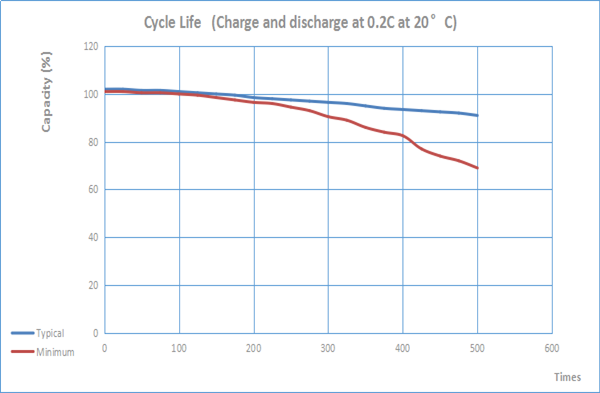 Battery Pictures: