Sep. 30, 2022
The Safety Centre have a full range of Emergency Lighting Batteries. These batteries are Nickel Cadmium replacement / spare batteries for emergency light units. They come supplied as packs or sticks with leads connected and shrink wrapped into their shape / configuration.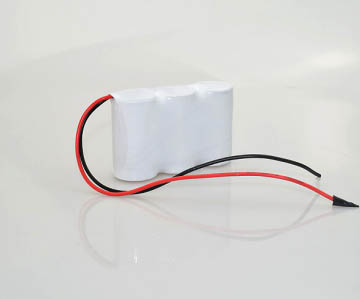 INLINE STICK EMERGENCY LIGHT BATTERIES
An inline stick emergency light battery is where the cells are laid out in a single line format, giving them their stick look. These are available in sizes from 2 to 6 cells in size. With voltages ranging from 2.4 volts upto 7.2 volts for the 2 cell sticks.
HOW TO CHANGE AN EMERGENCY LIGHTING BATTERY
A rechargeable battery for emergency lighting may or may not be able to be replaced, you should check the manufacturer's instructions before attempting to replace. To change an emergency lighting battery, all you have to do is remove the cover for the battery compartment, remove the lens or exit faceplate depending on which type of lighting you're dealing with, take the old battery out and put in the new one which should be compliant with the model of lighting. Sealed lead acid batteries have to be kept upright at all times when removing and replacing them. It is a legal requirement for you to replace an emergency lighting battery pack every four years, even if the battery is still functioning – it won't be providing the correct amount of light, the NEN 1010 and NEN 1838 safety standards highlights that emergency exits and escape routes must be illuminated by a minimum of 1 Lux at all times.
WHY EMERGENCY LIGHTING BATTERIES ARE IMPORTANT
The batteries for emergency lighting are crucial – they power the lighting in the event of a power outage, making sure employees and customers can identify fire exits and evacuate the building safely. They also make sure equipment such as fire extinguishers are identified so the trained employees have the equipment to fight the fire and possibly prevent it from getting worse.
HOW LONG SHOULD THEY LAST?
BS 5266-1 Emergency lighting –Part 1: Code of practice for the emergency lighting of premises states they must last for either one or three hours, depending on the situation - "A minimum duration of three hours should be used for emergency lighting if premises are not expected to be evacuated immediately in the event of a supply failure, such as sleeping accommodation or places of entertainment, or if the premises are expected to be reoccupied when the supply is restored without waiting for batteries to recharge. A minimum duration of one hour should be used only if the premises are expected to be evacuated immediately on supply failure and not reoccupied until full capacity has been restored to the batteries." You should research your country's government guidelines.
HOW TO TEST EMERGENCY LIGHT BATTERIES
It's prominent to make sure your batteries are working - BS 5266: 2016 states that a building must have adequate illumination for escape, and to identify firefighting equipment. Test buttons are featured on all emergency lights somewhere on the casing. Push and hold this button for around 30 seconds, make sure your lights stay on and don't dim. If your light does dim or some of the bulbs aren't working properly, you should fix this as soon as possible by hiring an expert.
WHEN TO REPLACE AN EMERGENCY LIGHT BATTERY
You're required to replace this battery every 4 years, however, sometimes they don't last this long. Testing the lighting regularly makes sure that you can properly maintain the batteries inside and keep evacuation areas illuminated.
SIDE BY SIDE EMERGENCY LIGHT BATTERIES
The side by side emergency light batteries consist of D sized cells laid next to each other. These packs can be purchased in 2, 3 or 4 cells sizes.
If you're interested in these products, please feel free to contact us.