Lead Acid Battery 12V 20Ah



Product Name: Lead Acid Rechargeable Battery 12V 20Ah

Place of Origin: Guangdong, China (Mainland)

Brand Name: Godson or OEM

Cells Per Unit: 6

Voltage Per Unit: 12

Nominal Capacity: 20Ah@20hour-rate to 1.75V per cell @25℃

Weight: Approx. 5.9 Kg (Tolerance±3.0%)

Internal Resistance: Approx. 14 mΩ

Terminal: F3(M5)/F13(M5)

Max. Discharge Current: 200A (5 sec)

Short Circuit Current: 820A






Design Life 6~8 years (Float charging)
Recommended Maximum Charging Current: 6.0 A
Length: 181±1.5mm (7.13 inches)
Width: 77±1.5mm (3.03 inches)
Height: 77±1.5mm (3.03 inches)
Total Height: 167±1.5mm (6.57 inches)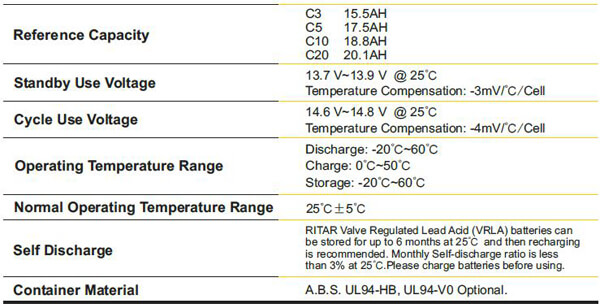 Lead Acid Rechargeable Battery:
GS series is a general purpose battery with 6~8 years design life in float service. It meets with IEC, JIS, BS and YDT standards. With advanced AGM valve regulated technology and high purity raw material, the RT series battery maintains high consistency for better performance and reliable standby service life. It is suitable for UPS/EPS, Telecom, power grid, medical equipment, emergency light and security system applications.
Advantage:
1. Long Design Life: The use of heavy-duty lead-calcium alloy grids with anticorrosive constrution enablesthe prostar batteries to remain in float service for 10 years.
2. High Energy Density: Prostar has been improved to bring about 15% higher energy density than comparable batteries at long duration discharge helping to design. equipments to be smaller, lighter and more cost effective.
3. Safety: No electrolyte leakage will occur from terminals or case ensuring safe and efficient operation.
4. Maintenance-Free
5. Gas Pressure Venting System
6. NO Free Acid
7. NO Equalizing Charge Requited
8. Prostar is equipped with anti-explosion device which improves safety
Application:
1. Communication systems: switch, microwave stations, mobile base stations, data centers, radio and broadcasting stations
2. Motivity Field: robots, electric toys, electric tools and portable vacuum cleaners
3. Solar and Wind Power Generation Systems
4. Signal System and Emergency Lighting Systems
5. EPS and UPS Systems