Jun. 14, 2022
Safety lights
"All-in-one units with lamps ideal for anti-panic, escape route or high-risk tasks in buildings"
Safety lights (or luminaires) represent a core category of emergency lighting for illuminating surfaces, as well as spaces.
These all-in-one units include the lamp and other functional components and are ideal for anti-panic, escape route or high-risk task emergency lighting.
Many variants are available ranging from the 'classic' box-shaped standard safety luminaire through to discreet LED safety luminaires. Mains LED lighting systems can also convert to become emergency lighting using appropriate safety luminaires and control gear.

Typical optical arrangements for safety lights

Exit/ESCAPE signs
"Indicate escape direction clearly - even in changing emergency conditions"
Illuminated emergency ESCAPE route signage with built-in lamps incorporate a pictogram – such as the iconic 'green running man' to indicate a fire exit or other safe escape direction.
The pictogram is illuminated from behind to provide luminance to at least European requirements 60598-2-22 & EN 1838.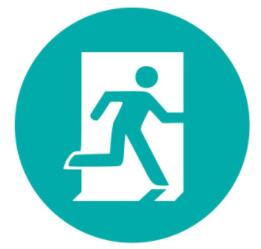 Breaking new ground - New types of sign both in function and form
There are a number of important developments in exit signs, from minimising their environmental impact to maximising their visibility. Adaptive technology now enables signs to dynamically change indicated direction to improve evacuation efficiency depending on conditions detected by the emergency lighting management system or control room operator.
The bright, uniformly-lit appearance of today's clean, flat profile designs with no visible screw heads enable designers to combine good-looks with fail-safe functionality.

Beam lights
'Target light directionally – exactly where you need it'
Beam lights with single and multiple movable lamps and optical elements enable you to direct light flow in high-risk interior areas.
These include warehouses and high-ceiling commercial areas such as large factory floors, shopping centers or entertainment venues. They also suit applications such as long, narrow escape routes where their 360° directional heads, and up and down adjustability, offer total flexibility. Safety equipment locations, as well as task locations that change, also benefit from beam lights' high performance and directional functionality.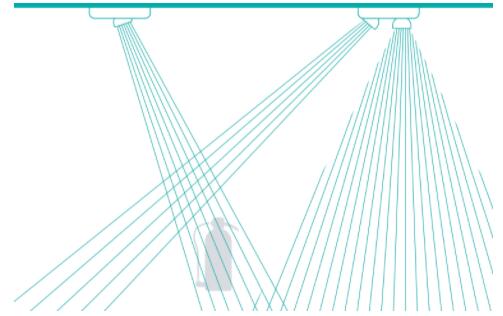 Breaking new ground - Full adjustable recessed beam lights
New, recessed beam lights now available combine directional flexibility with sleek aesthetics as their movable light heads remain the only visible part extending out from the unit's flush fitting.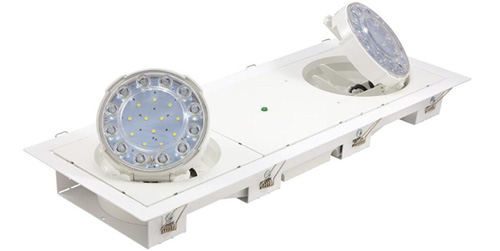 Customised signage and pictograms
"Request location-specific colour and pictogram variants with unchanged certification features"
With every building having its own unique set of requirements, customisation can satisfy needs that go beyond standard product ranges, while maintaining identical levels of performance and compliance.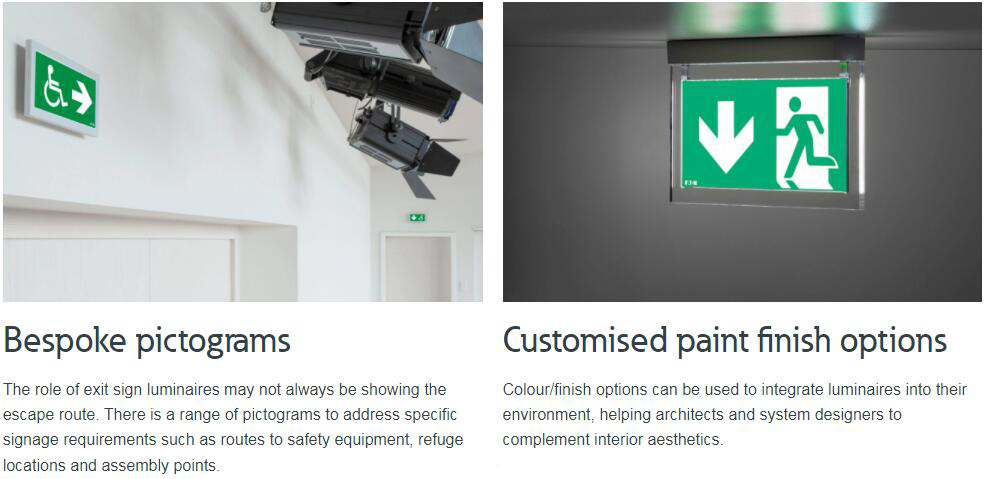 Advanced technologies
'Advanced tech emergency lighting is a fast-evolving solution for a complex world of growing threats'
In the decades since the iconic 'green man' arrived, emergency lighting has evolved into a sophisticated industry that is constantly refining existing technology, as well as innovating into smart signage.
Inevitably its learning has been informed by landmark events such as London's Kings Cross underground station fire in 1987, the departure hall blaze in Düsseldorf Airport in Germany in 1996, the Twin Towers disaster of 2001 and 2013's Nairobi Westgate Mall terror attack. All such high profile incidents – and every smaller one too – sharpen the focus on making evacuation and emergency wayfinding faster, simpler and more effective.
The result is a fast-expanding range of advanced technology products including increased affordance options that heighten engagement by pulsing, and a new generation of 'smart', adaptive signage that responds to environmental changes to show a different escape direction. Advanced tech emergency lighting is a solution that more and more architects and building owners are choosing to make their spaces as safe as they can possibly be in a complex world of growing threats.
Increased affordance
Evacuating commercial buildings can be made harder by people's failure to notice standard emergency exit signs during an incident and a tendency to return to the point where they entered the building – a situation that can lead to overcrowding, congestion and delays when every second counts.
In fact, research has shown that only 38% of people see conventional static exit signs when evacuating from an unfamiliar environment. Much of this in larger public spaces is down to distraction from branding, advertising and informational signage.
Increased affordance technology tackles this challenge by making signs much more visible to occupants during an emergency evacuation by flashing or pulsing, but never dipping below industry luminance required standards.
Luminance in the green zone of an Increased Affordance light (flashing or pulsing) compared with the minimum luminance in battery mode defined by EN1838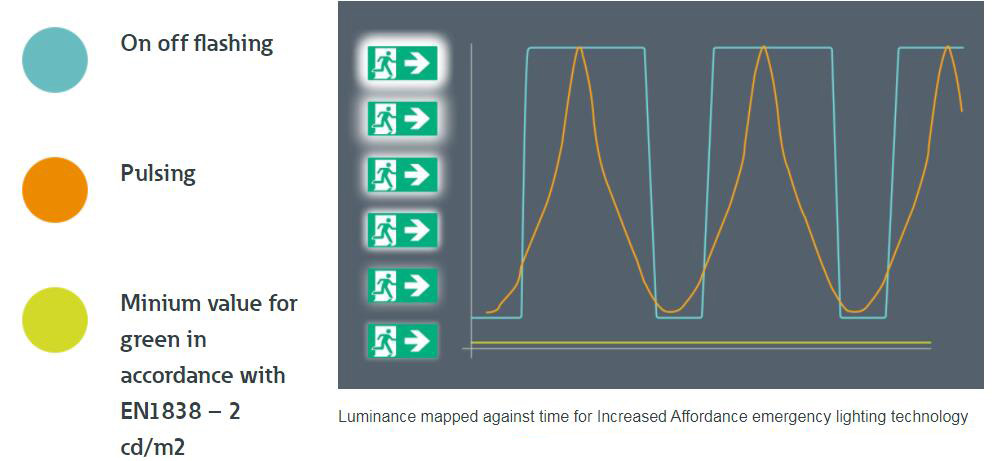 Adaptive Evacuation
Adaptive signage: responding to conditions in a building as they change during an event
The danger posed by fires, acts of terrorism and natural disasters will frequently change as the event unfolds. It means that static signage may no longer be showing the most appropriate exit route for the specific set of circumstances building occupants may find themselves facing.
Adaptive signage that can change is a solution – blocking unsafe escape routes and showing an alternative. Fully adaptive signs, meanwhile, can change to indicate a new direction, as well revert to their original route direction state once conditions permit. Both types enable building owners to direct people to safety in the safest way possible as the situation evolves.