Ni-MH Rechargeable Battery Pack AA 1300mAh 4.8V
Standard Charge Current: 0.1C for 16 hours
Circle Life: ≥500 times
Cell Dimension: 14.5 +0 -0.7(D), 49.0±0.5(H)
Cell Weight: ≈25g
Expected Life: 4 years
Packaging: Standard export package or customized package
Application:
1. Lighting: emergency lighting, emergency power supply, solar lights, searchlingts, flashlights
2. Power tools: electric drills, planers, saws, power granted
3. Electronic toys: remote control car, remote control boats, aircraft, model aircraft
4. Communication equipment: cordless phones, walkie-talkie
5. Personal care: electric shavers, massagers, electric tooth brush
Product performance:
1. Long service life (under normal conditions, the battery cycles more than 500 times.)
2. High rate charging and discharging performance: under the charging conditions specified by the company, the battery can be sufficient in one hour and can discharge with more than 10C current.

3. Wide temperature range: in high and low temperature environment, the battery performance is stable, and the working temperature range is - 10-70 ℃。
4. Good storage performance: at room temperature, the capacity of the battery remains above 70% after one month storage.

5. Improper use of safety devices: add chemical protection to prevent polarity reversal and over discharge; add safety relief valve to reduce internal pressure in case of improper use。
6. High stability: the company adopts the best materials, advanced production technology and technology to make the battery performance stable and reliable.
Performance Curves for Ni-MH Cell:
1. Ni-MH Cell Charge Curve At 0.1C For 16h At 55 Degree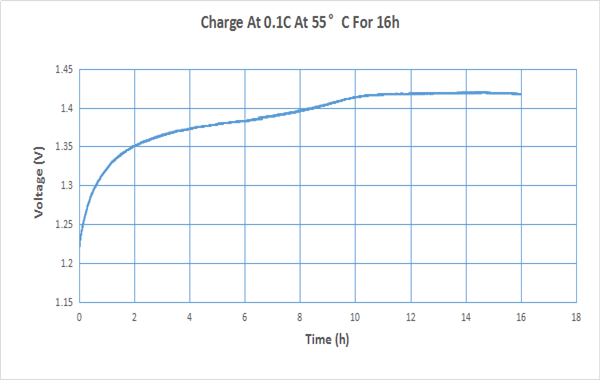 2. Ni-MH Cell Discharge Curve At 0.25C At 55 Degree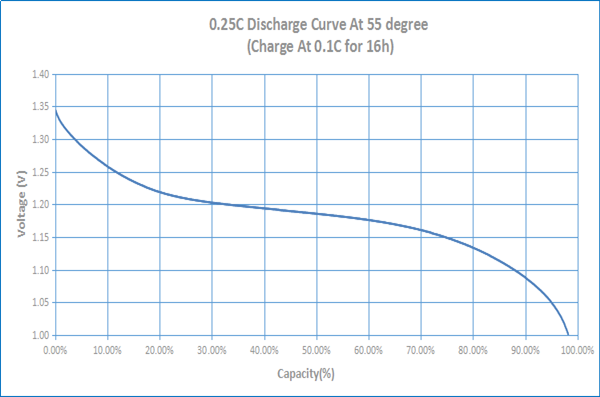 3. Ni-MH Cell Charge Efficiency At Different Temperature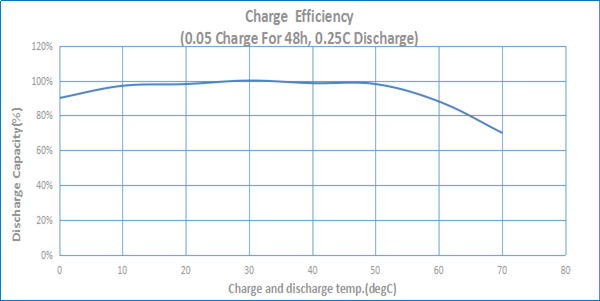 4. Ni-MH Cell Cycle Life Curve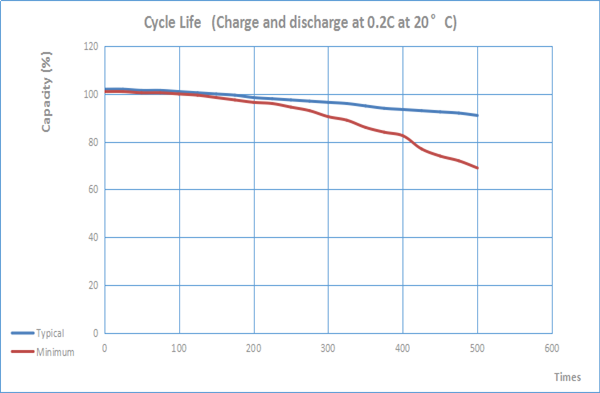 What Does Ni-MH Mean On Batteries?


Ni-MH means nickel-metal hydride. A little history might be interesting. One of the most successful exotic batteries is the nickel-hydrogen battery. It uses the same nickel-hydroxide positive electrode and KOH electrolyte as the Nickel-Cadmium Battery, but it uses hydrogen gas to replace the cadmium in the negative electrode. It needs a pressure vessel to hold the hydrogen gas. The Ni-MH Battery is mostly used in low-orbit satellites, which charge and discharge the batteries on every pass around the earth, and so need a long cycle-life battery. Nickel-hydrogen cells have a cycle life of tens of thousands of cycles.


A different way to store hydrogen will be in intermetallic compounds known as metal-hydrides. Some metals have space in their nuclear lattices into accomodate hydrogen atoms. The hydrogen could be forced to enter and depart the metallic matrix by electrochemical means. Thus the Nickel Metal Hydride Battery is a version in the Nickel Hydrogen Battery, using a brand new, low-pressure, method to store hydrogen. Regrettably, because the metal-hydrides corrode when exposed to KOH, they're much less long lived as nickel-hydrogen batteries.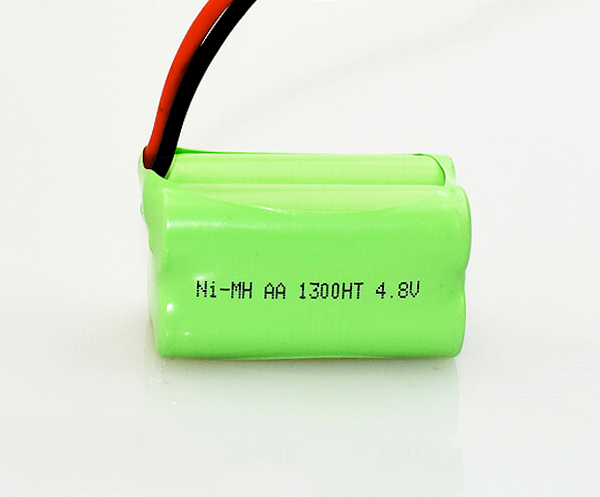 Our Products are Being Shipped.
Godson Technology Co., Ltd. is a globally trusted supplier and manufacturer of emergency lighting battery, emergency lighting products, E-bike battery and power tool battery, whose batteries range covers Ni-Cd, Ni-MH, LiFePO4, Lead Acid, Lion-polymer and other relevant lithium batteries.
Dating back to the year of 1993, we have already had 20 years' experience in battery industry. We have started to focus on emergency lighting battery and emergency lighting products since 2010.
Relying on the great reliability and the feature of super high cost-effective, our products have been exported to many countries, such as USA, UK, Turkey, Germany, Ireland, Italy, Spain, Poland and Singapore.