Product Name.: Li-Polymer Battery 523450 1000mAh 3.7V
Type: Li-polymer Battery
Size: 5.2*34*50mm
Nominal Voltage: 3.7V
Nominal Capacity: 1000mAh
Cycle life: More than 500 times
Charging Temperature: 0℃-45℃
Discharge Temperature: -20℃- +60℃
Storgy Temperature: -20℃- +45℃
Product performance:
1. Good safety performance. Built in circuit protection board, with short circuit, overcharge,over discharge, shock, vibration, acupuncture, high temperature,no explosion ,etc.
2. Stable performance. Long cycle life, after 500 times of ontinuous charge and discharge,the battery capacity shall not be less than 80% of the rated capacity.

3. Small thickness and high volume utilization. Polymer lithium battery overcomes Lithium battery in the thickness of the bottleneck, to achieve ultra-thin settings, and can assemble it into a credit card. Polymer cell can achieve thickness up to less than 1 mm, in line with the current demand for mobile phones.

4. Light weight. Polymer lithium battery does not need to use metal shell as outer packaging.In quality, it is 40% lighter than that of steel shell lithium battery with the same capacity shell batteries are 20% lighter.

5. Quality assurance. It adopts A-product cell with high capacity and low internal resistance.

6. Shape can be customized. Polymer lithium battery models and capacities are available,it has strong applicability.

7. No memory effect. It can be charged and discharged at any time.
Application : lighting, backup power supply, wind energy storage, communication equipment, IT products, IC card terminal, GPS system, LED lights, medical equipment,instrumentation, beauty and hair products, electric toys, flashlight, miner's lamp, agricultural machinery equipment, electric tools, etc.
Performance Curves of Lithium Cell:
1. Lithium Cell Charge Curve (Charge at 1C)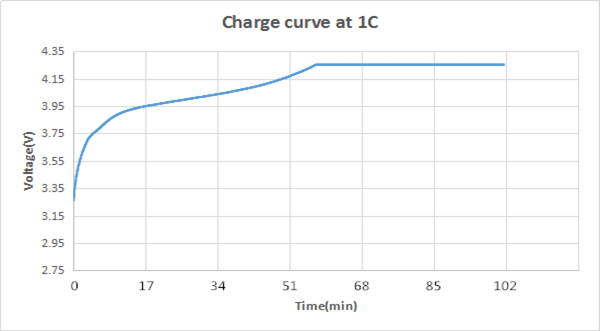 2. Lithium Cell Discharge Curve (Discharge at 1C )
3. Lithium Cell Cycle Life Curve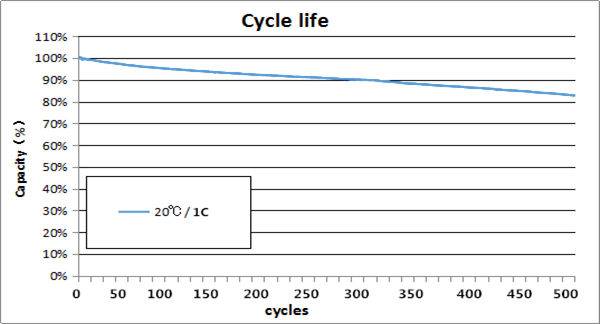 What Is the Feature of Lithium Iron Phosphate Battery?
Lithium Iron Phosphate Battery features can be summed up as follows:
1.High efficiency output: standard discharge of 2-5C, continuous high current discharge up to 10C, instantaneous pulse discharge up to 20C.
2.The performance is good at high temperature, the structure of the battery is safe and intact.
3.Even if the LiFePO4 battery is damaged inside or outside, the battery does not burn, explode, it has the best safety.
4.Excellent cycle life, after 500 cycles, the discharge capacity is still greater than 95%.
5.LiFePO4 Battery can charge quickly and low cost, no memory effect.
6.Small volume and light weight.
7.No pollution to the environment. The battery does not contain any heavy metals and rare metals, comply with the European ROHS regulations, it is absolute green environmental protection battery.
Our Products are Being Shipped.

Godson Technology Co., Ltd. is a globally trusted supplier and manufacturer of emergency lighting battery, emergency lighting products, E-bike battery and power tool battery, whose batteries range covers Ni-Cd, Ni-MH, LiFePO4, Lead Acid, Lion-polymer and other relevant lithium batteries.
Dating back to the year of 1993, we have already had 20 years' experience in battery industry. We have started to focus on emergency lighting battery and emergency lighting products since 2010.
Relying on the great reliability and the feature of super high cost-effective, our products have been exported to many countries, such as USA, UK, Turkey, Germany, Ireland, Italy, Spain, Poland and Singapore.