Product Name: LiFePO4 Rechargeable Prismatic Battery 3.2V 85Ah


| | | |
| --- | --- | --- |
| Pos. | Product Parameters | Data |
| 1 | Rated voltage | 3.2 V |
| 2 | Charge current | 42.5A(Up to 0.5C ) |
| 3 | Resistance | Around 2mΩ |
| 4 | Maximum charge voltage | (3.6+-0.05V) |
| 5 | Continuous charging current | 255A (3C) |
| 6 | Maximum charging current | 425A(5C) |
| 7 | Minimal discharge voltage | 2.2V |
| 8 | Weight | 2.45KG |
| 9 | Size | 280mm(Height) x130mm(Width) x36mm(Thickness) |
Product performance:


1. Long cycle life. The cycle life of LiFePO4 battery is more than 2000 times. Under the same conditions, LiFePO4 battery can be used for 7 to 8 years.

2. Safe use. Lithium iron phosphate has been strictly tested for safety and will not explode even in the worst traffic accidents.

3. Fast charging. Lithium iron phosphate battery can be charged and discharged quickly with high current 2C. Under the special charger, the battery can be fully charged within 40 minutes at 1.5C.

4. High temperature resistance. The peak temperature of lithium iron phosphate can reach 350 to 500 ℃, while that of lithium manganate and lithium cobalt oxide is only about 200 ℃.

5. Large capacity. Lithium iron phosphate battery has a larger capacity than ordinary battery (lead acid, etc.), according to the capacity density of battery, the energy density of lead-acid battery is about 40wh / kg, and the energy density of mainstream lithium iron phosphate battery in the market is above 90Wh / kg.

6. No memory effect. No matter what state the battery is in, it can be used as soon as it is charged. There is no need to discharge it before charging.

7. Environmental protection, non-toxic and pollution-free. Lithium iron phosphate battery is generally considered to be free of any heavy metals and rare metals (Ni MH batteries need rare metals), non-toxic (SGS certification), pollution-free, in line with European ROHS regulations, green environmental protection batteries.
Advantages of LiFePO4 Battery:

1.High safety performance. As a car power, safety is among the first thinking factors. Although the safety of general Lithium Batteries can be basically ensured, there is possibility of fire and explosion under the pole condition. LiFePO4 battery as the two generation products, its physical function is stable, no explosion no fire, is now the world's only sure the safety of lithium ion battery.
2.Long life and low cost. As the power battery, its life is closely related to the overall cost. The battery can walk more than 500 thousand kilometers, and can use five years or so. Coupled with its production cost is lower than its general lithium battery, it can greatly decrease the cost of the use and protection of electric vehicles.
3.Use processing convenience. LiFePO4 Battery does not contain any heavy metals and rare metal, non-toxic, no pollution, in accordance with the regulations, it is green environmental protection battery.


4. Energy efficiency.
--Self-discharge. All rechargeable batteries lose charge over time, but the rate with LFP is only 3-5% per month. NiCd loses 15% in the first 24 hours, then drops to 10-20% per month (depending on temperature).
--Charging efficiency. During the charging process of any battery, energy is lost in the form of heat. the charging efficiency of LFP is very high, about 95%.
Performance Curves of LiFePO4 Cell:


1. LiFePO4 Cell Charge Curve (Charge at 0.1C)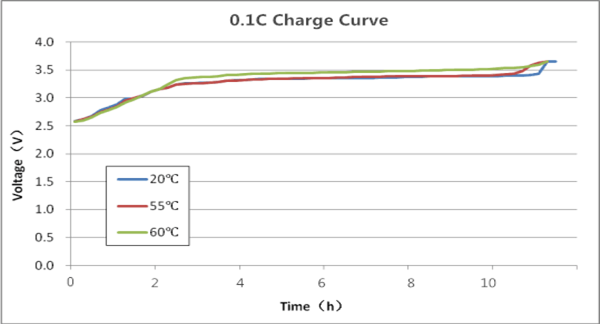 2. LiFePO4 Cell Discharge Curve (Discharge at 0.2C )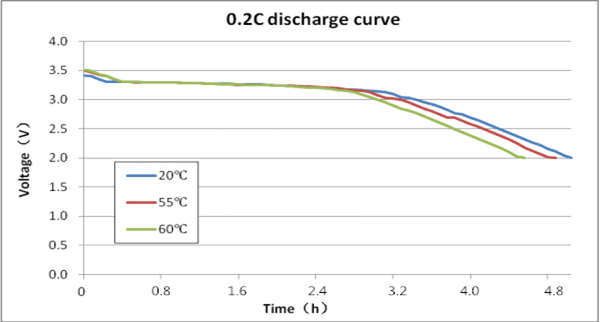 3. LiFePO4 Cell Charge Efficiency At Different Temperature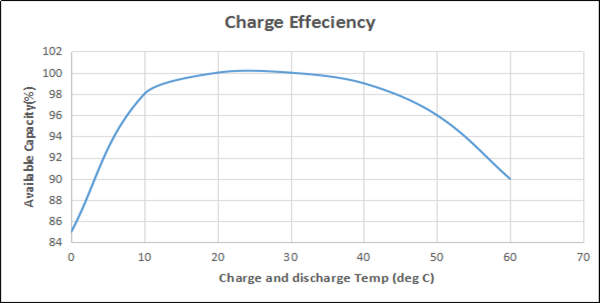 4. LiFePO4 Cell Cycle Life Curve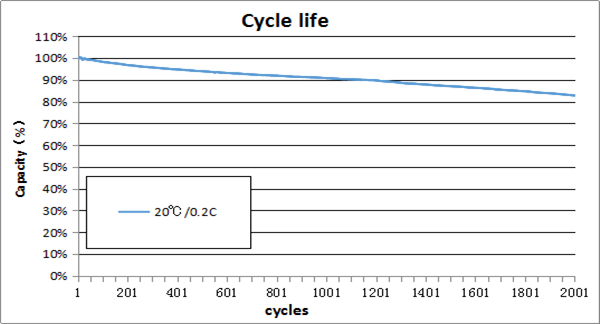 5. LiFePO4 Cell Capacity Change At Smart Floating Charge At 55 degree